Dent Instruments | TCA-5-AO
Amplifier for current probes, output 5A
Le TCA-5 est un amplificateur de transconductance de 5A. Elle a été conçue pour une utilisation avec les sondes CT RoCoil de DENT. Ce produit comprend uniquement l'amplificateur, il ne comprend ni l'alimentation ni les sondes CT RoCoil.
Since pioneering the use of flexible RoCoil CTs in energy measurement. we have been asked to provide a flexible coil with a 5 amp output. We are pleased to announce that the RoCoil TCA-5 now fulfills this requirement in the marketplace. Those who use 5 amp current input power meters will now be able to take advantage of the easy installation and broad current range coverage offered by RoCoil flex probe CTs.

The RoCoil TCA-5 is a three-channel integrating transconductance amplifier (TCA) that converts the 131mV/1000A electrical output signal from the RoCoil current sensor to a 5 amp AC current. emulating a traditional current sensing transformer.

The RoCoil TCA-5 is factory-calibrated to work with DENT RoCoil CTs (131mV/1000A). The unit can be DIN or panel mounted and a 10" section of TS35/7 DIN rail is included with the kit.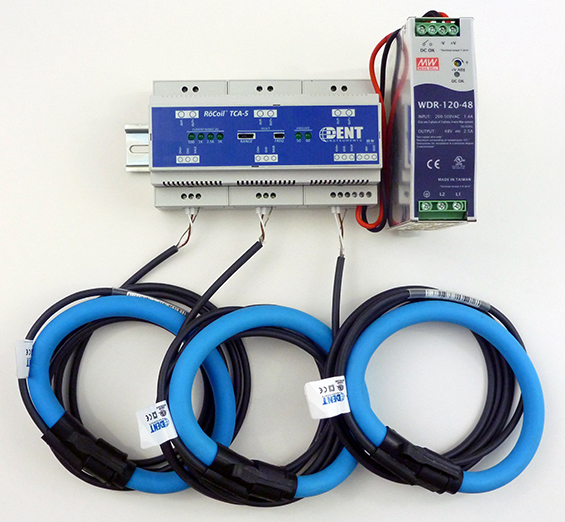 Input Measurement Voltage

0-655 mV (RMS)
RoCoil Current Range
0.5-5000 amps (80 dB Signal Range)
Output Current
0-5.00 amps (RMS)*
RoCoil Sensing Ranges
500. 1K. 2.5K. 5K Amps (User-selectable)
Maximum Burden
1.75 VA per channel
Maximum Output Impedance
70 m-Ohms
Measurement Channels
3 (3-phase or single phase)
Frequency
50/60 Hz Select
Accuracy
1% **
Channel Cross Talk
Maximum Operating Temp
60 °C (140 °F)
POWER REQUIREMENTS

TCA Supply Voltage
48 VDC +/- 10%. 30 Watts
TCA Supply Current
0.6 A DC @ 48 VDC
DIMENSIONS/MOUNTING
Width Base Unit/Assembled
15.7cm (6.2")/25.0cm (9.8")
Height Base Unit/Assembled
9.0cm (3.5")/12.6cm (5.0")
Input Wire Connection
18-28 AWG
Output Wire Connection
12-18 AWG (length dependent)
ACCESSORIES
AC/DC Power Supply. 50 Watts

Low Voltage: 120/240 VAC

High Voltage: 200/500 VAC

Mounting Rail
TS35/7 DIN Rail
| | |
| --- | --- |
| 118-Output type (V/C) | Current |
| 149-Probe accuracy (%) | 10 |
| 35-Dimension (HxWxD) (mm) | 157x90 |