Flir | T660
IR camera, 0.03°C,640x480, lens 25/45/15°, touch screen,fusion, MeterLink,WiFi,viewfinder,profil
Caméra thermique pour industrie, maintenance électrique.
Agréé CNPP.
Avec fonction d'amélioration
MSX
.
Nouvelle fonction
MSX
: Permet d'améliorer sensiblement le détail de l'image thermique par une intégration de contour via l'image visible.
Avec viseur, fonction profil et préréglage des mesures.
Capteur: Microbolomètre non refroidi, 640x480 éléments, 307200 pixels.
Gamme de température: -40 °C à +150 °C, +100 °C à +650 °C, +300 °C à +2000 °C.
NETD: 0.02°C.
Objectifs interchangeables.
Champ de visée (FOV): selon objectif (grand-angle: 45°Hx34°V; standard: 25°Hx19°V; téléobjectif: 15°Hx11°V).
IFOV: 0.68 mrad pour l'objectif 25°.
Fréquence: 30Hz.
Zoom numérique: 1x-8x.
Unité IR inclinable, écran LCD tactile 4.3", focalisation automatique ou manuelle, pointeur laser, fonction PIP+ & Fusion, video MPEG-4 (images non radiométriques seulement), annotations vocales et texte, Zoom numérique 4x, alarme d'humidité/d'isolation.
Interfaces sans-fil Bluetooth MeterLink et WiFi.
Fournis avec constat de vérification.
FLIR T640 / FLIR T620
CNPP Approval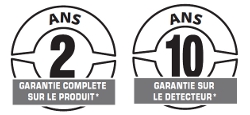 The FLIR T640bx / T620bx combine the ergonomics and flexibility of the FLIR T-Series with the extremely high image quality of the P-Series. The FLIR T640bx / FLIR T620bx offer a crisp thermal image of 640 x 480 pixels on which the smallest of details can be seen. An intuitive user interface supported by state-of-the-art touch-screen technology make the FLIR T640bx /FLIR T620bx extremely easy to use.

640x480 pixel resolution
The high definition 640x480 pixels detector generates crisp and clear detailed images that are easy to interpret. resulting in reliable inspections with higher accuracy.
High sensitivity
The T640bx allows you to see temperature differences as small as 0.04°C.
Tiltable IR unit
The tiltable IR unit gives you great flexibility and allows you to work faster and in a comfortable position during your inspections.
Large bright 4.3 inch LCD screen
The high quality LCD screen presents sharp and bright images also in outdoor environments.
Viewfinder (FLIR T640bx)
The high-resolution viewfinder is ideal for outdoor use or when the LCD screen is not used.
High quality visual camera
An integrated 5 megapixel visual camera generates crisp visual images in all conditions.
Automatic- and manual focus
The FLIR T640bx/FLIR T620bx have a manual focus on the lens as well as a quick one shot autofocus.
Laser Pointer
The position of the laser pointer is highlighted on the IR-image. which helps you associate the hot spot in the image with the physical target.
Flexible interfaces
Easy access to Digital Video Interface. USB for connecting external devices. USB2 for PC communication and a direct connection to charge the battery inside the camera.
MPEG-4 video
Create visual and infrared non radiometric MPEG-4 video files.
FLIR Thermal Fusion
Merges visual and thermal images for better analysis.
Movable and Resizable Picture-in-picture
Create an infrared overlay on your visual image.Adapts automatically to different lenses with different field of view. Moveable and resizable.
Touch screen
The LCD touch screen brings interactivity and user comfort to a new level. In combination with the large backlit buttons and joystick control the T640bx/T620bx is very easy to use.
Sketch annotations
Include a sketch with the IR image of the inspected object. just draw it on the touch screen.
Text and voice annotations
Text comments can be selected form a list. A Bluetooth headset can be connected to make voice annotations.
Digital zoom
The FLIR T640bx is equipped with a 1-8x continuous digital zoom and the T620bx with a 1-4x zoom.
MeterLink™
FLIR MeterLink technology simplifies the work in electrical or building inspections by making it possible to transfer. via Bluetooth®. the data acquired by an Extech clampmeter or multifunction moisture meter into the thermal imaging camera. The MeterLink technology saves time and eliminates the risk of erroneous records or notes.
Humidity Alarm/Insulation Alarm
The Relative Humidity Alarm alerts you to the areas where there is a risk of condensation. An Insulation Alarm shows the insulation performance of the building structure. By inputting relevant values into the camera the areas that fail to fulfill requirements will appear as colored.
FLIR T640bx / FLIR T620bx Model Comparison
| | |
| --- | --- |
| FLIR T620bx | FLIR T640bx |
| Thermal sensitivity: 50 mk | Thermal sensitivity: 40 mk |
| LCD display only | Viewfinder and LCD display |
| 1-4x continuous. digital zoom | 1-8x continuous. digital zoom |
| | Line profile function |
| | Measurement presets |
Spécifications techniques
FLIR T620bx
FLIR T640bx
Imaging performance
Thermal sensitivity (at 30 °C)
40 mK @ 30 °C
35 mK @ 30 °C
Digital zoom
Direct access. 1-4x continuous
Direct access. 1-8x continuous
Image presentation
Viewfinder
N/A
800x480 pixels
Measurement analysis
Line profile function
N/A
Live profile. H/V-direction
Measurement presets
N/A
Add preset measurement set up by the press of one button
General specifications
Imaging performance
Resolution
640x480 pixels
Focal Plane array (FPA)
Uncooled microbolometer
Spectral range
7.8 to 14 µm
Field of view / min focus distance
45° x 34° / 0.15 m
Spatial resolution (IFOV)
1.23 mrad
Image frequency
30 Hz
Focus
Manual / autofocus
Image presentation
Display
4.3" superbright touchscreen LCD 800x480 pixels
Image modes
IR-image with selected color scale. Full color visual. Picture in Picture (Resizable and movable IR-area). Thermal Fusion (Threshold above. below and interval). thumbnail gallery
Manual image adjustments
Level/span/max/min
Automatic image adjustments. continuous or manual activation
Standard or based on histogram from image content
Automatic image adjustment with locked scale
Lock max. min or span
Measurement
Accuracy
± 2 °C or ± 2% of reading
Temperature range. standard
-40 °C to +150 °C. +100 °C to +650 °C
Temperature range. optional
+300 °C to +2.000 °C
Measurement analysis
Spotmeter
10
Area
5 Max/Min/Average value within box or circle
Automatic hot/cold detection
Max/Min temp. value and position shown within box. circle or on a line
Isotherm
Detect high/low temperature/interval
Humidity alarm
1 humidity alarm including dew point alarm
Insulation alarm
1 insulation alarm
Difference temperature
Difference between any two measurement functions or any measurement function and a reference temperature
Reference temperature function
Manually set
Emissivity correction
Variable from 0.01 to 1.0 or selected from materials list
Measurement corrections
Reflected temperature. optics transmission and atmospheric transmission
External windows correction
Automatic based on inputs of window temperature and transmission
Set-up
Image controls
Palettes (Arctic. Gray. Iron. Lava. Rainbow and Rainbow HC). image adjustment (auto/manual)
Set-up controls
Local adaptation of units. language. date and time formats; automatic shutdown . display intensity
Configure information to be shown in image
Yes
Programmable button
Yes
Image storage
Type
IR/visual images; simultaneous storage of visual and IR images
Format
Standard JPEG - including measurement data on SD memory card
Periodic image storage
Every 2 sec up to 24 hours
Digital camera
Digital
5 Mpixel incl. lamps
Laser LocatIR
Laser
Semiconductor AlGaInP diode laser. Class 2 - position is displayed on the IR image
Laser alignment
Laser position shown on IR-image
Image annotation
Voice
60 seconds via Bluetooth® stored with the image
Text
Text from predefined list or soft keyboard on touch screen
Sketch
A sketch drawn on touch screen is automatically saved with image
Meterlink
Wireless connection to: Extech Moisture meter MO297 or Extech clamp meter EX845
Report generation
Instant Report in camera
Automatic generation of PDF report based on selected images direct in camera
Video streaming /recording
Non radiometric IR-video streaming
MPEG 4 streaming to PC using USB
Video recording in camera
Non-radiometric IR video/visual video. MPEG4 to SD-card.
WiFi
Wireless streaming of non-radiometric IR-video . MPEG4
Update of camera
Automatic update of camera to latest version
Automatic update of camera from PC running FLIR Tools
Data communication interfaces
Interfaces
USB-mini. USB-A. Bluetooth®. WiFi. DVI video
Bluetooth®
Communication with smart phone. PC tablet. headset and external sensors
USB
USB-A: Connect external USB device - USB-mini-B: Data transfer to and from PC / Streaming MPEG 4
WiFi
Connects directly to Ipad/Iphone for image transfer
Power
Battery type
Lithium-Ion (field replaceable)
Battery operating time
> 3 hours at 25°
Charging system
In camera. AC adaptor. 2-bay charger or 12 V from a vehicle
Power management
Automatic shutdown and sleep mode (user selectable)
AC operation
AC adaptor. 90-260 V AC. 50/60 Hz
Adaptor voltage
12 Volt VDC out
Environmental specifications
Operating temperature range
-15 to +50 °C
Storage temperature range
-40 °C to +70 °C
Humidity. operating and storage. non-condensing
IEC 60068-2-30/24h. 95% relative humidity +25 °C to +40 °C
Encapsulation
IP 54. IEC 60529
Bump. Operational
25G. IEC 60068-2-29
Vibration. Operational
2G. IEC 60068-2-6
EMC. emission
EN 61000-6-3
EMC. immunity
EN 61000-6-2
Physical characteristics
Camera weight incl. battery
1.3 kg
Camera size (L x W x H)
143 x 195 x 95 mm
Tripod Mounting
1/4" - 20
Lenses optional
Tele lens. 15°
15° x 11° / 0.9 m
Lens 25°
25° x 19° / 0.3 m
Standard package
FLIR T620bx / T640bx: Hard transport case. thermal imaging camera with lens. Battery (2). Battery charger. Large eyecap. Tripod adaptor. Neck strap. Lens cap. Bluetooth® headset. Calibration certificate. FLIR Tools™ PC software CD-ROM. Memory card with adaptor. Power supply incl. multiplugs. Printed Getting Started Guide. Printed important information guide. USB cable. User documentation CD-ROM. HDMI cable (2). Warranty extension card or Registration card
41-Standard Manufacturer Warranty
1 YEAR (+1 YEAR*)
178-IFOV (mrd)
0.68 mrd(STD); 1.23 mrd (Wide); 0.41 mrd(Tele)
184-guide-EN-38-glossary_of_terms_spectral_band
7.8 - 14 um
543-CNPP approval

Yes

179-Sensitivity (NETD)
0.03°C
180-Max temperature (°C)
2,000°C
181-Min temperature (°C)
-40°C
182-Measurement accuracy
2 °C or +- 2% of reading
477-Emissivity correction on display

Yes

189-Display frequency (Hz)
30 Hz
544-Typical application
Electrical | Industrial
183-Detector (type)
Uncooled microbolometer
728-Detector size
640x480 elements
729-Detector resolution
307 200 pixels
614-Visible image

Yes

615-Visualisation modes

Infrarouge
Visible
PIP
Fusion

176-Horizontal field of view (FOV)
25°H; 45°H; 15°H
177-Vertical field of view (FOV)
19°V; 34°V; 11°V
402-Bluetooth

Yes

762-WiFi

Yes

185-Min focus distance (cm)
25 cm; 15 cm; 50 cm
187-Focus (type)
Automatic | Manual
188-Display
Touch screen 4.3" LCD display
36-Additional Characteristics
MSX function.Bluetooth MeterLink.WiFi.Interchangeable lens (wide or tele lens in option).PIP & fusion functions.Sketch, voice, text annotations.MPEG-4 video (No radiometric images only).Laser pointer.Viewfinder.Line profile function.Measurement presets.Zoom 1x-8x.
542-Metrology/Quality documentation supplied
Verification official report
132-Package includes
Hard transport case, Battery (2), Battery charger, Large eyecap, Tripod adaptor, Neck strap, Lens cap, Bluetooth® headset, FLIR Tools™ PC software CD-ROM, Memory card with adaptor, Power supply incl. multiplugs, Getting Started Guide, USB cable, User documentation CD-ROM, HDMI cable (2), verification official report
35-Dimension (HxWxD) (mm)
143x195x95 mm
13-Net Weight
1.3 kg
653-Windows compatible

Yes

654-iOS compatible

Yes

655-Android compatible

Yes