Testoon | VentiMalin
Air tightness control fan
Le VentiMalin vous permet de mettre simplement et rapidement le bâtiment sous pression pour contrôler les fuites d'air. 

Il vous aide à être conforme à la RT2012 sur l'étanchéité à l'air. 

Le VentiMalin est conçu pour les professionnels du bâtiment (constructeurs, plaquistes, fabricants et poseurs de fenêtres, installateurs, ...) afin qu'ils puissent tester les parties sur lesquelles ils travaillent pour s'assurer de la qualité de celles-ci en termes d'étanchéité à l'air.
The VentiMalin is for you if want to find out where the cracks & gaps are in your construction and take care of them prior to a professional tester coming to site!
The VentiMalin is a device used to generate an under-pressurisation level in a building. or part of a building. for the purposes of locating and repairing cracks & gaps in the continuous air tight envelope which. as the name suggests. is prior to a professional air leakage tester with full equipment visiting your project.
The VentiMalin is built typically into an external window frame and the extra area between the fan housing and the window opening is firmly and neatly sealed with air tight membrane to make a completely air tight installation. It can of couse be fitted into a piece of OSB3/Plywood built into a door frame too.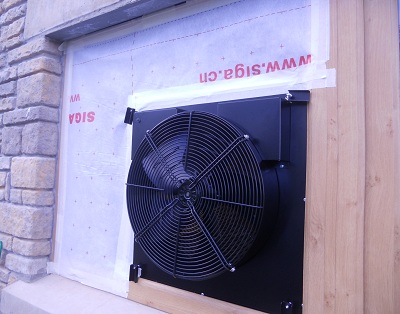 The VentiMalin frame is secured in place using the locking mechanisms on 3 corners of the mounting housing.
The fan is then plugged in and by operating the step less switch. negative pressure (i.e. air is pulled out through the fan) is generated and depending on how large or leaky the building is until a target pressure differential of for example 50 Pa pressure is achieved.
At this type of pressure differential the locating of any problems within the air tight layer should be easily achievable as the air being sucked out through the fan will be replaced via leakage and this leakage will be locally found
Air leakage can be found in 3 typical ways:
You will feel it – whether it is torn/unfinished membrane in a timber frame building or exposed inner leaf Blockwork in a masonry construction you will physically feel the uncontrolled air flow.
You will see it – whilst the fan is under pressurising the area. leaks which move airflow over loose insulation. dust. cobwebs etc. will cause them to move and are a clear indication of a
You will hear it – the smaller and more angled the aperture and the higher the pressure it is likely that you will get a whistling sound through it and this is often noticed at leaking window seals. attic hatches. doors etc.problem.
Anywhere the designed continuous air tight layer is not finished or corrupted will allow uncontrolled air movement!
Having observed the location of the leaks the construction professional can then take steps to make the areas airtight in their own time without a tester waiting for them to be complete.
The VentiMalin is designed to assist and be purchased by building professionals (builders/timber frame companies/window manufacturers & installers/MVHR installers etc.) who know that they have to engage a professional tester for a first-fix or final test and who want to ensure that this goes as well as possible.
This will help them to manage & present as professional a profile as possible to their clients and other associated professionals such as architects & engineers.
The VentiMalin is absolutely not a replacement for an independent tester using professional series equipment which provides a full test sequence and report in accordance with EN13829 or Passive House test criteria etc.
It cannot give you a test result in the form of an n50 or q50 – it is an accurate guide; but a very good guide nonetheless.
| | |
| --- | --- |
| 545-Blower type | One-Way Blower |
| 506-Max flow at 50Pa (m3/h) | 3000 m3/h |
| 132-Package includes | The fan, the power supply |
| 35-Dimension (HxWxD) (mm) | 650 x 650 mm |
| 13-Net Weight | 13.3 |