Divers | PS27
Smoke Machine, 2.2kW, 720 m3/min for big buildings
Jusqu'à 720 m3/min de fumée
Puissance maximale: 2.2kW
Consommation maximum de liquide : 50 mL /min
Durée d'émission de fumée: 40min. à puissance maximale.
Réservoir interne de 2L
Garantie 5 ans
Télécommande filaire 5m
The PS27 is our highest quality smoke machine is well suited to applications where continuous. high smoke output is required with low uid consumption.

There is no compromise in the quality of components in this unit. It generates the most persistent waterbased smoke of any smoke machine available.

How does the PS27 dier from other water based smoke machines?

-- Continuous & constant 100% high output - fog output does not 'ramp down' to maintain continuous fog ow like on most machines.
-- All components have been chosen for quality and reliabili ty. The heat exchanger is guaranteed for life and the pump is medical grade.
-- Particle size (consistently 0.2 micron) is the smallest of any fog machine in the world. This means low fuid consumption. long hang time (uid A) for thick fog and no residue.
Specifications :

• Can produce high quality smoke continuously at maximum output
• Variable output control (0 -> 100%)
• Produce persistent smoke
• Ecient uid use (50ml per minute. 100% output)
• Precision machined heat exchanger. guaranteed for life!
• 2 litre internal reservoir with sight glass
• High quality peristaltic pump. continuously rated
• 5 year warranty
• Supplied with wireless remote control
• Can produce persistent (Fluid A) medium dispersing (Fluid C) or quickly dispersing smoke (Fluid B) as required
Operation:

• Warm up time from cold: 5 minutes
• Duration of full 2 litre uid tank at maximum output: 40 minutes
• Smoke output: 0 - 720 m 3/min (30.000 ft 3/min)
• Particle size consistently 0.2 - 0.3 micron. mass median diameter
Available for 240 / 110v supplies.
Accessories available:

Ducting adaptor & hose (75/50/25mm dia.). external uid reservoir. centrifugal fan.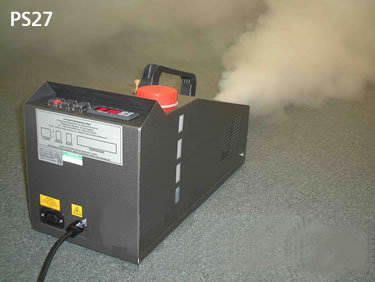 41-Standard Manufacturer Warranty
5 YEARS
583-Max smoke flow
720 m3/min
704-Fluid consumption
50mL/min max. (for max. power)
705-Max. Power (for max. flow)
2200 W
706-Fogging time
40 min. for max. power
707-Fluid tank capacity
2 Liters
132-Package includes

bidon de 2L de liquide à fumée
telecommande filaire

35-Dimension (HxWxD) (mm)
290mm x230mm x550mm
13-Net Weight
13.5 kg