Fluke | TL175E
Touch points on bended lead, with TwistGuard + diam.2mm to diam.4mm point adapter
Pointe de touche fine sur cordon coudé.
Système TwistGuard pour régler la longueur de pointe exposée de 19mm à 4mm.
Système WearGuard, permettant de contrôler l'usure des cordons.
Points de dégagement haute résistance.
Pour environnement CAT II, CAT III, CAT IV.
CAT II 1 000 V, CAT III 1 000 V, CAT IV 600 V.
Double isolation.
Norme: EN 61010-031.
Courant: 10A max. 

Avec adaptateur pointe de touche amovible diam.2mm vers diam.4mm.
TL175 TwistGuard™ Test Leads
Twist. Test.
The Fluke TL175 TwistGuard™ Test Leads are the only test leads in the world with adjustable length test tips for use in different measurement environments.
TwistGuard™ adjustable tips enhance safety and versatility length
WearGuard™ indicator shows damage to leads
Heavy duty strain relief withstands over 30.000 bends



Featured

:

Patented TwistGuard™ extendable tip shroud meets the highest electrical safety requirements to reduce tip exposure while providing the versatility needed for most measurements
New WearGuard™ lead wire wear indication. Each test lead is covered by two layers of silicone insulation; inner contrasting color is exposed when the leads are nicked. scuffed. or otherwise damaged and in need of replacement
Double insulated silicone leads. TL175 test leads withstand high temperatures and remain flexible in cold temperatures.
Extra-heavy duty strain relief on both probe-end and plug-end. tested beyond 30.000 bends without failure.
Universal input plugs are compatible with all instruments that accept standard 4 mm shrouded banana plugs
Ratings: CAT II 1000 V. CAT III 1000 V. CAT IV 600 V. 10 A max.. Pollution Degree 2
TL175E also available. Includes removable 4 mm lantern tips that thread onto the lead tip
Probes always show correct category rating for tip being used
Environmental ratings: -20 °C to 55 °C (-4 °F to 131 °F). altitude: 2000 m (6.562 ft)
Conforms to EN61010-031
One-year warranty
Ratings: CAT II 1000 V. CAT III 1000 V. CAT IV 600 V. 10 A max.. Pollution Degree 2
Exposed probe tip length: 19 mm to 4 mm (0.75 inch to 0.16 inch)
Environmental ratings: -20 °C to 55 °C (-4 °F to 131 °F). altitude: 2000 m (6.562 ft)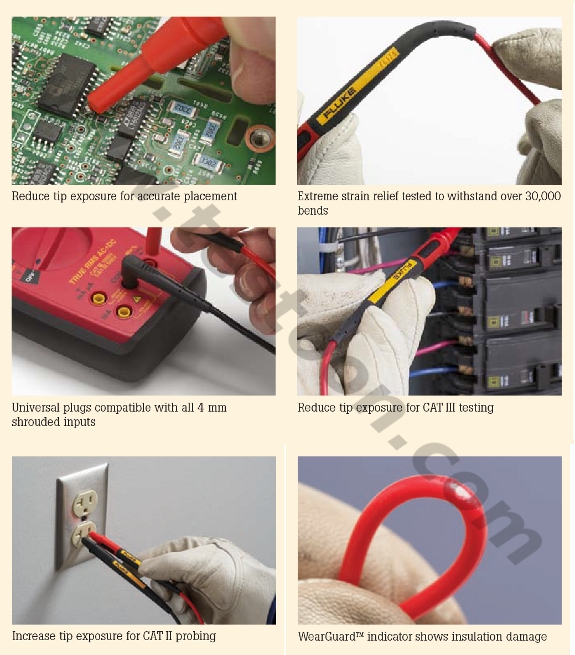 | | |
| --- | --- |
| 41-Standard Manufacturer Warranty | 1 YEAR |
| 156-Rated voltage (V) | 1000V (CAT II, III); 600V( CAT IV) |
| 155-Rated current (A) | 10 A max. |
| 119-Safety Level | CAT I | CAT II | CAT III | CAT IV |
| 120-Safety Overvoltage | CATII 1000V / CATIII 1000V / CATIV 600V |
| 36-Additional Characteristics | TwistGuard™ adjustable tips enhance safety and versatility length.WearGuard™ indicator shows damage to leads. |
| 132-Package includes | Detachable touch point adapter diam.2mm to diam.4mm |