Leica Geosystems | Disto D110
World's smallest laser distance meter with integrated Bluetooth®, 60m, +/-1.5mm
Distance max : 60m
Précision : +-1.5mm
Protection : IP54 (protection contre la poussière et les projections d'eau) 

Vos avantages
- Une forme maniable et une facilité d'utilisation sans précédent
- Une fonctionnalité élargie avec Bluetooth® Smart (4.0) intégré et application Leica DISTO™ sketch
- Idéal pour des mesures rapides de distance et de surface
- Une attache pour poche amovible, facilitant le transport
- La technologie, la qualité et la précision Leica Geosystems 

=-=-=-=-=-=-=-=-=-=-=-=-=-=-=-=-=-=-=-=-
Testoon, en tant que distributeur officiel LEICA, vous assure la réparation par échange standard* sous 24h00 ouvrées pendant la période de garantie, et ce sur toute la gamme DISTO.
* Offre valable sur les appareils vendus par Testoon SAS
The Leica DISTO™ D110 is the first laser distance meter with Bluetooth® Smart that fits to a pocket. Its handy design with a pocket clip and simple functions make it a perfect tool for anyone who wants to take effortless measurements.
Whether you need a quick material estimation or you work on a home improvement project. the Leica DISTO™ D110 with integrated Bluetooth® Smart and the free Leica DISTO™ sketch app offers you endless possibilities to create sketches. generate floor plans. document your measurements with pictures using a smartphone or a tablet.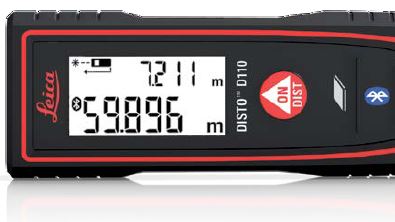 Technical data :
Typ. measuring accuracy ± 1.5 mm
Range 0.2 – 60 m
Measuring units m. ft. in
Power Range Technology ✔
Display illumination ✔
Free App ✔
Data interface* Bluetooth® Smart
Measurements per set of batteries Up to 5000**
Batteries Type AAA. 2 × 1.5 V
Protection class
IP 54 (dust and splash water protected)
Dimensions 120 × 37 × 23 mm
Weight with batteries 92 g
*) System requirements and other details can be found at www.disto.com
**) Reduced in Bluetooth® Smart mode
Leica DISTO™ Apps


They bring the office to the construction site
Leica DISTO™ sketch

With this app. simple sketches of objects can be created on a grid and dimensioned.

In addition measurements can be added to photos.

If you measure and transfer the distances with a Leica DISTO™ you will be even faster.

Suitable for Leica DISTO™ D110. D510. D810 touch
For devices with Android from V4.3 and Bluetooth® 4.0

Suitable for Leica DISTO™ D8. D3a BT. A6
For devices with Android from V4.0

Suitable for Leica DISTO™ D110. D510. D810 touch
For devices with iOS and Bluetooth® 4.0
| | |
| --- | --- |
| 41-Standard Manufacturer Warranty | 2 YEARS (+1 YEAR*) |
| 749-*Warranty details | *2 YEARS warranty in standard-> 3 YEARS after register (8 weeks max. after purchase) on https://myworld.leica-geosystems.com/irj/portal |
| 251-Measurement method (type) | Laser |
| 250-Max distance (m) | 60 m |
| 328-Measurement accuracy (mm) | 1.5mm |
| 252-Functions (type) | Length measurement (m/ft) | Area measurement (m2/ft2) | Minimum measurement | Maximum measurement | Continue measurement |
| 402-Bluetooth | Yes |
| 256-USB | No |
| 35-Dimension (HxWxD) (mm) | 120 × 37 × 23 mm |
| 13-Net Weight | 92g |
| 653-Windows compatible | No |
| 654-iOS compatible | Yes |
| 655-Android compatible | Yes |
Livraison rapide et produit maniable
C'est un produit simple à manipuler. L'écran lumineux est un bon point au niveau design. C'est bien pratique pour des petits chantier.