Leica Geosystems | DISTO D510 25ANS
Leica Disto D510: Distancemeter/Lasermeter 200m, tilt sensor, digital color viewfinder, Bluetooth
Distancemeter/Lasermeter Leica DISTO™ D510. The lasermeter with bluetooth compatible with Apple Iphone & Ipad. Android. Windows ! Slope indirect measurement in 2 points. Range: 0.05m - 200m. Accuracy: +-1 mm. Tilt sensor ±360°. integrated digital viewfinder (4-fold zoom). multi-function flip-out end piece (Auto). pythagorian function. Area triangle measurement. trapezium function (width and slope of roof). angle measurement. indirect measurement. addition. subtraction. area. volume. min/max function. Screw thread for tripod. Wireless communication interface Bluetooth Smart (4.0). Compatibility: Iphone (4S & superiors) & Ipad (3rd gen & superiors). Android (4.3 & superiors). Windows 8.1.
Best outdoor functionality and apps


Pointfinder with 4x zoom
IP65 water jet protection and dust-tight
360° tilt sensor
Smart Horizontal Mode™
Height tracking
Bluetooth® Smart
Free App – Leica DISTO™ sketch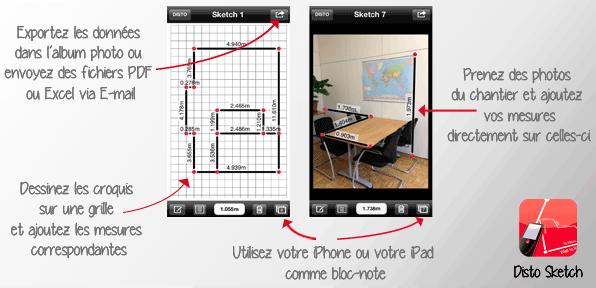 Simple and precise targeting - Pointfinder with 4x zoom
With the Pointfinder. the Leica DISTO™ D510 takes measurements with perfect accuracy and in unfavorable light conditions. This is a decisive advantage when working outside in sunny weather. Even if the red laser point is no longer visible to the naked eye. the target can be seen exactly in the crosshairs on the display.
Unlimited number of measuring options - 360° tilt sensor
The Leica DISTO™ D510 is equipped with a 360° tilt sensor. This means that it is not only possible to measure angles. but horizontal distances too! Combined with the Pointfinder. amazing indirect measurement options are provided. Hence. measurements are possible where no reflective target point is available e.g. when determining the height of a tree or when measuring the height of a reflecting glass facade. These could not be measured with a conventional laser distance meter.
Efficient height profile measurement
Using this function. the Leica DISTO™ D510 displays distances and height differences to an established reference point. This makes it easy to quickly make profile measurements. without having to use more expensive measuring methods. Also. this function can be used to check whether cross beams are straight. the levelness of existing floors. among other applications.
Quick sketching - Bluetooth® Smart with app
The Leica DISTO™ D510 is capable of more than just measuring. Measurement data can be conveniently and accurately transferred using the integrated Bluetooth® Smart Technology. The free app Leica DISTO™ sketch supports the creation of ground plans or tables on iPhone. iPad. Android. Windows. Dimensions can even be entered onto photographs with no effort whatsoever.
Modern ergonomics
Providing the simplest possible operation of complex measuring functions is a must for Leica Geosystems. The Leica DISTO™ D510 has been adapted to the user interface of modern cell phones. Furthermore your favourite functions can be assigned to a pair of selection keys. for quick access with a single button press. And the integrated. easy-to-understand help function does not leave you in the lurch on site.
Tough and easy to clean - IP65
The housing and keypad are specially sealed against water and dust. Cleaning under running water is also no problem. Furthermore the laser distance meter can be used in all weather conditions. being dust-proof and water jet protected.
ISO Standard 16331-1 – The standard for laser distance meters
The range and accuracy of laser distance meters depend on light conditions and reflectivity of the measuring target. For Leica Geosystems it is important that the instruments not only perform under perfect laboratory conditions. but above all under the kind of everyday working conditions encountered on construction sites. This is why. working together with external experts. the company have developed a standard by which laser distance meters can be tested and compared with each other.
Technical specifications:
Typical measuring accuracy
± 1 mm
Range
up to 200 m
Measuring units
m. ft. in. yd
Power Range Technology™
•
Distance in m
Ø of the laser dot in mm
10. 50. 100 m
6. 30. 60 mm
Tilt sensor measuring range
360°
Pointfinder with 4x zoom
•
Memory
30 displays
Free App
•
Data interface*
Bluetooth® Smart (4.0) (Only tablets or smartphones with Bluetooth 4.0 are compatible)
Measurements per set of batteries
up to 5000**
Multifunctional end-piece
automatic recognition
Batteries
type AAA 2 × 1.5 V
Tripod thread
•
Protection class
IP65 – water jet protection and dust-tight
Dimensions
143 × 58 × 29 mm
Weight with batteries

198 g
*) System requirements and other details can be found at www.disto.com
**) Reduced in Bluetooth® mode
| | |
| --- | --- |
| Functions: | |
| Minimum / maximum measurements | • |
| Area / volume measurement | • |
| Triangle / room angle function | • |
| Painter function | • |
| Trapezium measurements | • |
| Pythagoras functions | 2 points and 3 points |
| Inclination tracking | • |
| Smart Horizontal Mode™ | • |
| Sloped object measurement | • |
| Height tracking | • |
| Height profile measurements | • |
| Stake-out function | a/b |
| Subtraction / addition | • |
Delivery package:

Leica DISTO™ D510 laser distance meter
Holster
Hand loop
Batteries
| | |
| --- | --- |
| 41-Standard Manufacturer Warranty | 2 YEARS (+1 YEAR*) |
| 749-*Warranty details | *2 YEARS warranty in standard-> 3 YEARS after register (8 weeks max. after purchase) on https://myworld.leica-geosystems.com/irj/portal |
| 330-Application | for indoors and outdoors measurements. |
| 251-Measurement method (type) | Laser |
| 250-Max distance (m) | 200 m |
| 249-Min distance (m) | 0.05 m |
| 328-Measurement accuracy (mm) | 1 mm |
| 252-Functions (type) | Mesures d'inclinaisons | Mesures sur photo | Length measurement (m/ft) | Area measurement (m2/ft2) | Volume measurement (m3/ft3) | Minimum measurement | Maximum measurement | Continue measurement | Indirect measurement | Addition/Subtraction length | Addition/Subtraction area | Addition/Subtraction volume |
| 427-Screw thread for tripod | Yes |
| 405-Measurements memorization | Yes |
| 403-Viewfinder | Yes |
| 253-Metric system (type) | m, ft, inch |
| 402-Bluetooth | Yes |
| 188-Display | High resolution color display 2.4" |
| 256-USB | No |
| 36-Additional Characteristics | Bluetooth Smart (4.0) interface (Compatible with iPhone, iPad, android, winwdows (the complete compatibility is indicate in a table in the "product details" part ).Slope indirect measurement in 2 points.Big color displayTilt sensor, digital color viewfinder ("Video Mode"), trapezium function, area of trianglePower Range Technology™, integrated spirit-level function, 20 measures memory, indirect measurement, multi-function flip-out end piece |
| 542-Metrology/Quality documentation supplied | Calibration certificate (With measures table) |
| 132-Package includes | Holster, Batteries, User Manual, Quick guide, Free apps for iPhone & iPad (Download on AppStore) |
| 35-Dimension (HxWxD) (mm) | 143x58x29 mm |
| 13-Net Weight | 198 g |
| 653-Windows compatible | Yes |
| 654-iOS compatible | Yes |
| 655-Android compatible | Yes |
Très satisfaisant avec de nombreuses fonctionnalités
.. .par contre, c'est les apps de dessin qui sont un peu compliquées à gérer
Écran fragile et SAV déplorable
J'ai cassé l'écran de mon Leica en le laissant dans ma poche en moins d'un an. Cela a du créer une pression sur l'ecran et il s est fendu. Pas très solide... Il faut savoir que pour ce type de problème, il n'y a pas de SAV et il vous sera impossible de trouver un écran neuf. Conclusion changement standard de l appareil avec remise de 30% sur son prix neuf. Cependant pour bénéficier de la remise il faut envoyer l appareil cassé. Donc eux nous fond une pseudo remise et en plus se donne le droit de récupérer les pieces. Dernière chose testoon garantie le changement dans les 48h en cas de casse. Ce qu il faut savoir c est que c est 48h après réception et contrôle du produit. En gros vous le recevrez au moins 7 jours plus tard... J'ai repris le même produit car l echange ne marche que pour la meme reference et chez le même revendeur mais je regrette et je ne referais pas la même erreur. Le changement d écran aurait du coûter une centaine d'euros au pire. Je me retroue avec une facture du triple. On prends de la marque pour être tranquil et on est aussi embêté que de la gamme grand public. Et c'est pas testoon qui va arranger le problème ou ou aidez. Très déçu mais éclairé désormais.