Newsteo | GPRS-COL-11
Indoor GPRS Collector, IP 30
COLLECTEUR GPRS : LA PASSERELLE ENTRE LES LOGGERS RADIO ET UNE BASE DE DONNEES SUR RESEAU
Le Collector de Newsteo permet de récupérer à distance, par GPRS (réseau GSM), les données dun parc de télémètres Newsteo et les stocker sur un serveur déporté et sécurisé: 

Evite le déplacement dun opérateur sur site pour télécharger les mesures des loggers
Remplace le couple PC+récepteur radio ou Automate+ récepteur radio de récupération des données
Gestion multi-sites : plusieurs parcs de télémètres Newsteo peuvent être gérés avec plusieurs Collecteurs reportant à la même base de données 

Comment ça marche ?
Le Logger équipé dun capteur prend la mesure et la transmet par radio au Collecteur,
Le Collecteur transmet les mesures par Ethernet ou GPRS à une base de données centralisée
Une alerte en temps réel peut être envoyée où que soit le superviseur
Le superviseur peut accéder à tout instant aux mesures, via Internet 

Hébergement de la base de données
La base de données est au format MySQL. Elle peut être hébergée sur un serveur Newsteo ou par le client lui-même. 

Alertes temps réel
E-mail : le serveur envoie un e-mail dalerte dès quil reçoit une mesure en-dehors des seuils normaux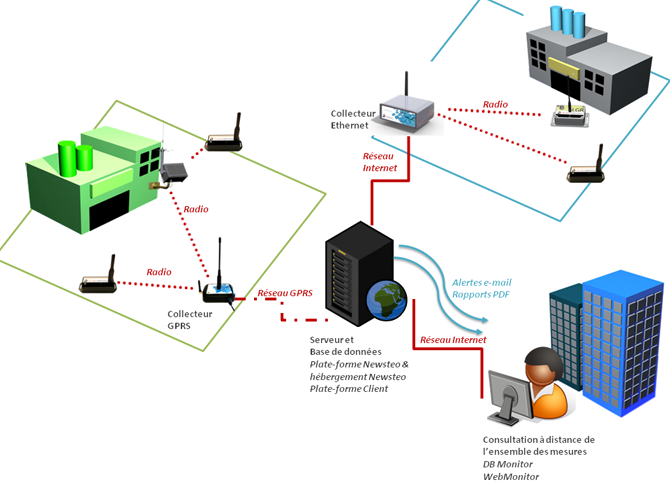 Specifications
Reference
PFPN-COL22-001
PFPN-COL11-001
Name
Indoor Ethernet Collector
Indoor GPRS Collector
Transmission Collector – Server
Transmission mode
Ethernet
IPv4 - 100Mbps
GPRS (2.5G)
Subscription
ADSL subscription managed by the customer
GPRS subscription + SIM card managed by the customer or supplied by Newsteo
Transmission Collector – Datalogger
Transmission mode
Radio ISM 868 MHz
Radio ISM 868 MHz
ISM radio antenna
¼ wavelength antenna included (and replaceable by one with higher radio range)
The antenna is provided with a magnetizable foot and a thin 3 meters cable. It can easily be re-positioned to optimize radio range
¼ wavelength antenna included (and replaceable by one with higher radio range)
Radio range
Several hundred meters. can pass through several walls
Other features
Several hundred meters. can pass through several walls
Power supply
AC power connector
(5V-48V DC input)
AC adapter included
AC power supplied. micro-USB connector
AC adapter included
IP level
IP30
IP30
Diagnostic LED
3 LED
3 LED
Connectors / rear face buttons
- RJ-45 for Ethernet
- Jack for power supply
- SMA for radio antenna
- Connector for relay output warning
- Button for acknowledge of local alarm
- micro-USB for power supply
- SMA for radio antenna
- FME for GPRS antenna
- Button for acknowledge of local alarm
Data base
The data base is a MySQL standard. It can be hosted on a Newsteo' server or by the client himself.
Depending on the number of loggers that communicate with the database and their frequency. this graph is used to evaluate the size of the database. The evaluation is given for use for a year. After one year. it is possible either to save and delete measurements. or to continue using the same base which size will continue to grow in the same proportions.


Ethernet Collector Photos
Data transmission encryption
The Newsteo Collector communicates with the remote Newsteo Webserver in 'point-to-point' mode. which limits the risk on the network itself. Newsteo has implemented a first-level private encryption on the packets going out of COLLECTOR and coming back from SERVER. Only port 80 is used.

The Newsteo Collector product runs on a private operating system and does not use Linux or any other public OS. So. apart from the limited capabilities to communicate with Newsteo remote server. the Collector does not contain any other generic network functions that would permit to enter Customer's internal network through the Collector.
| | |
| --- | --- |
| 132-Package includes | Indoor GPRS Collector¼ wavelength antenna included (and replaceable by one with higher radio range)The antenna is provided with a magnetizable foot and a thin 3 meters cable. It can easily be re-positioned to optimize radio range |
| 13-Net Weight | 1 |